You can buy Birkdale Primary School polo shirts and sweatshirts from The Warehouse in Birkenhead. See the table below.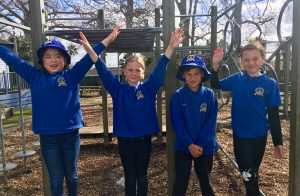 Children must wear black or navy shorts, pants or a skirt with the uniform.
Children may wear a warm thermal underneath their polo shirt during the winter months but must be dark in colour, e.g. black, navy.
It is compulsory to wear a school hat in term 1 and 4.   Our school hats cost $9.00 and are available to purchase from the school office.
Larger sizes are available and laybys and WINZ quotes are welcome.
Please note all prices are inclusive of GST and are subject to change without notification
Uniform prices – The Warehouse, Highbury, Birkenhead
Description Style number
Style number
Sizes
Price
Royal Polo Shirt with logo screen printed
708550708550
4- 6 yrs,

8 -16 yrs

$22.99

$23.99

Royal Crew Neck Tunic Sweatshirt with logo screen printed
708545708545
5 – 7 yrs,

8 -16 yrs

$26.99

$26.99
School Hat with logo  –  $9.00 (purchase from Birkdale Primary School office)